Lash Lifts & Tints
Enhance you natural lashes with a quick, but long-lasting lift, and accentuate your natural color with a gentle tint.
After Treatment:
DO use a lash serum, it will help strengthen, condition and help encourage growth to the lashes after being treated. My favorite is BabeLash which you can purchase at your appointment. 
DONT get your lashes wet for 24hrs afterwards.
DONT sleep on your face for the first 24 hrs, your lashes are prone to kink when first done. 
DONT wear waterproof mascara.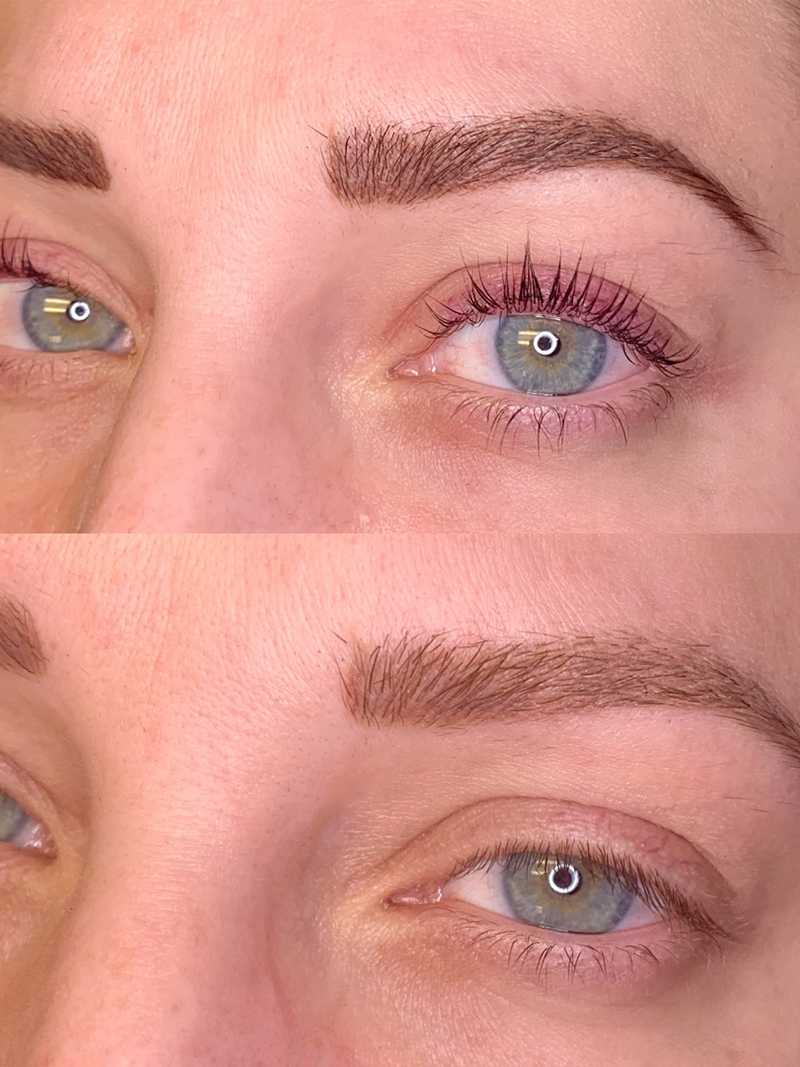 What is a lash lift?
A lash lift is a chemical process to help lift and curl stubborn lashes into a desired dramatic or less dramatic curl and lengthen while maintaining the integrity of the natural lash.
How do I prep for a lash lift?
Come into your appointment makeup-free and if you wear contacts please remove them and prepare to relax. 
Does it hurt or damage my lashes?
No it is completely painless. Your eyes are closed during the procedure and protective shields are used to ensure safety. Your lash procedure will be performed with the utmost care and proper techniques ensuring no over-processing or damage is done.
How long does the appointment take?
Depending on how coarse your lashes are 40-60 minutes and also if we plan on tinting them afterward. 
How long does the Lash Lift last?
A lash lift and tint can last anywhere between 6 to 8 weeks. Results do vary from client to client depending on lash growth cycles, hair type and mascara use. There are some situations that may cause the lift to drop/weaken prematurely such as not waiting 24hrs for swimming, use of harsh products or heat. You can repeat the treatment after a minimum of 4 weeks of having the initial treatment, but not before.
Can I wear makeup after my lash lift?
Yes, but it is encouraged to not touch your lashes for 24hrs after the procedure. You may find you wont need mascara afterwards but in case you do wish for fuller lashes a non waterproof mascara is recommended. When removing waterproof mascara it can be harsh and also weaken the lash lift faster than normal. 
Can I use an eyelash curler?
No there will be no need to after the procedure and it may weaken your lashes. 
How do I wash my eyes?
Gentle and mild products but again wait 24hours after your procedure to do so. 
How often can I have my lashes lifted?
Typically every 6-8 weeks when you notice your lashes drop back to their natural state. If you do wish to keep up you are allowed at minimum to lift again at 4 weeks if you feel the need to.
Pricing
Lash Lift & Tint – $85
Lash Lift – $70
Brow Lamination (Wax & Tint Included) – $75
BOTH Lash and Brow Tint – $30
Brow Tint – $15
Lash Lift – $15
Brow Wax and Tint – $40